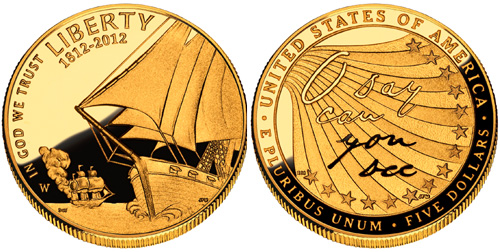 The 2012 Star Spangled Banner $5 Gold Coin will be issued as part of a program authorized by Congress to commemorate the bicentennial of the writing of national anthem of the United States of America.
The designs for the coins are required to be emblematic of the War of 1812 and particularly the Battle of Baltimore, which formed the basis for the lyrics of the Star Spangled Banner. The obverse design for the gold coin depicts a naval battle scene with an American ship in the foreground and a damaged and fleeing British ship in the background. The inscriptions include "In God We Trust", "Liberty", and "1812-2012″. The obverse was designed by Donna Weaver and sculpted by Joseph Menna. Initially, this design had been prepared as a candidate for the silver dollar, but it was selected for use on the gold coin following the recommendation of the Citizens Coinage Advisory Committee.
The reverse design for the coin includes the first words of the national anthem "O say can you see" in Francis Scott Key's handwriting. The background features an arrangement of 15 stars and 15 stripes to represent the Star Spangled Banner flag. Inscriptions around the outer rim of the coin include "United States of America", "E Pluribus Unum", and "Five Dollars". The reverse was designed by Richard Masters and sculpted by Joseph Menna.
A maximum authorized mintage of 100,000 pieces has been established for the Star Spangled Banner $5 Gold Coin. This will be made up of both proof and uncirculated versions, both struck at the West Point Mint. Pricing for the coins will include the cost of designing and issuing the coin, as well as a surcharge payable to the Maryland War of 1812 Bicentennial Commission.
Sales began at the US Mint on March 5, 2012. The $5 gold coins were available individually in proof or uncirculated versions. A two coin proof set was also available which included the silver dollar from the same program. Pricing for the gold coins and two coin proof set was based on the average market price of gold and accordingly will vary throughout the duration of the offering. For the start of sales, the proof coin was $529.30, the uncirculated coin was $519.30, and the two coin set was $579.30.
Coin Specifications
Designer: Donna Weaver (obverse), Richard Masters (reverse)
Weight: 8.3590 g
Composition: 90% gold (0.242 ounces of gold)
Diameter: 21.6 mm
Maximum Authorized Mintage: 100,000
2012 Uncirculated Star Spangled Banner $5 Gold Coin
Pre-Issue Price: variable
Regular Price: variable
Final Mintage: TBD
2012 Proof Star Spangled Banner $5 Gold Coin
Pre-Issue Price: variable
Regular Price: variable
Final Mintage: TBD