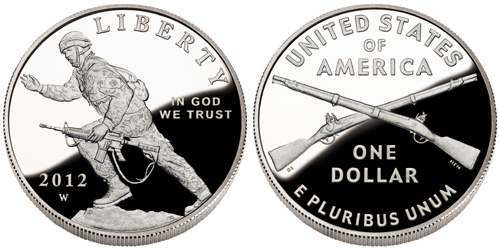 The 2012 Infantry Soldier Silver Dollar will be issued to commemorate the legacy of the United States Army Infantry and the establishment of the National Infantry Museum and Soldier Center. The program includes a silver dollar coin with a maximum mintage of 350,000 pieces.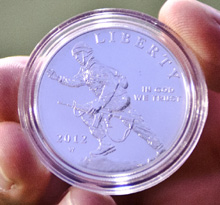 Designs for the coins were announced prior to a football game between the Fort Benning Doughboys and the Columbus State University Cougars on October 27, 2011. The opening coin toss was performed with a prototype of the commemorative coin. This prototype was actually one of several test strikes created by the United States Mint using a master die and carrying a bullion finish, which is not approved for commemorative coins. The prototype and other test strikes are to be retained by the US Mint and eventually melted.
The obverse design for the Infantry Silver Dollar features a modern infantry soldier charging forward and beckoning others to follow, representing the "Follow Me" motto of the infantry. The inscriptions include "Liberty", "In God We Trust", and the date "2012″. The obverse was designed by Joel Iskowitz and sculpted by Michael Gaudioso.
On the reverse is the crossed rifles insignia, which is the branch insignia of the infantry. The inscriptions include "United States of America" above, and the denomination "One Dollar" and "E Pluribus Unum" below. The reverse was designed by Ronald D. Sanders and sculpted by Norman E. Nemeth.
Sales of the 2012 Infantry Soldier Silver Dollars began at the United States Mint on February 16, 2012. Pricing for the coins is $49.95 for proofs and $44.95 for uncirculated coins during an introductory period, with prices $5 higher during the regular sales period. A Defenders of Freedom Set is also available priced at $51.95. This product includes the coin and a replica dog tag.
The price of each coin includes a surcharge to be paid to the National Infantry Foundation to establish an endowment to support the maintenance of the National Infantry Museum and Solider Center after its completion.
Coin Specifications
Designer: Joel Iskowitz (obverse), Ronald D. Sanders (reverse)
Weight: 26.7300 g
Composition: 90% Silver (0.7736 ounces of silver)
Diameter: 38.1 mm
Maximum Authorized Mintage: 350,000
2012-W Uncirculated Infantry Soldier Silver Dollar
Pre-Issue Price: $44.95
Regular Price: $49.95
Final Mintage: TBD
2012-W Proof Infantry Soldier Silver Dollar
Pre-Issue Price: $49.95
Regular Price: $54.95
Final Mintage: TBD