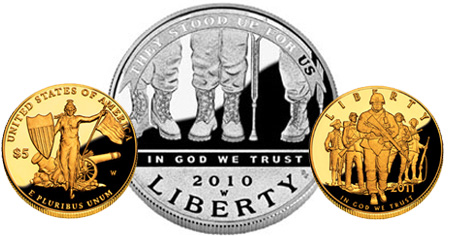 The commemorative coins issued by the United States Mint in recent years have been impacted by higher precious metals prices. As the market prices for gold and silver have risen, the United States Mint has had to increase issue prices, which have potentially contributed to lower sales, as some collectors are priced out of the offerings.
In 2010, the programs honored American Veterans Disabled for Life and celebrated the centennial of the Boy Scouts of America. Both programs did relatively well, with the Boy Scouts coins selling out of the 350,000 maximum authorized mintage.
The following year, prices for silver dollars and $5 gold coins issued for the United States Army and Medal of Honor programs were increased substantially compared to the prices in effect for the previous year. The expanded number of coins and higher prices seemed to have the combined effect of lower sales. If past history is any indication these slower sales may result in lower mintages, which lead to later price appreciation. On the other hand, if precious metals prices continue to increase, sales may see even lower levels in the coming years.
Sales levels and expectations for the 2012 and 2013 programs will be intriguing to watch for clues about the future potential of recent United States Mint modern commemorative coins.
Visit the pages below for additional information on the United States Mint's 2010-2013 commemorative coins.